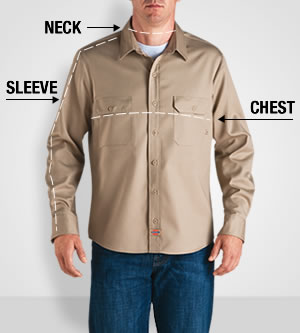 MEASURING FOR PROPER FIT
The following guidelines are important in measuring for proper fit.
Give all measurements in inches.
If the person's measurements are between sizes, order the larger size
For greatest accuracy, have someone else take measurements
The tape measure should be pulled snug, not tight.
NECK:
Measurement is the circumference of the neck as illustrated.
CHEST:
Taken at the fullest point of the chest, keeping tape under arms and around shoulder blades. Hold tape level and firmly but not tight.
Size Chart

| Size | Chest | Neck |
| --- | --- | --- |
| S | 34-36 | 14 – 14.5 |
| M | 38 – 40 | 15 – 15.5 |
| L | 42 – 44 | 16 – 16.5 |
| XL | 46 – 48 | 17 – 17.5 |
| 2XL | 50 – 52 | 18 – 18.5 |
| 3XL | 54 – 56 | 19 – 19.5 |
| 4XL | 58 – 60 | 20 – 20.5 |
| 5XL | 62 – 64 | 21 – 21.5 |
| 6XL | 62 – 64 | 22 – 22.5 |
| 7XL | 70 – 72 | 23 – 23.5 |