November 21 – Along the Mississippi river to Uncle Lee's boy hood home town of Greenville, MS.
Lunch in Vicksburg and haul on the back roads to Gulfport for a flight at Chandeleur Island Brewing Co. Pretty decent Octoberfest, IPA. Thanksgiving and food trivia night was kind of fun. To observe. Tried to camp at Gulf Island National Park but it was locked up for the night.
November 22 – Fantastic Shrimp and Grits for breakfast at Buzzy's Breakfast. Twenty Dollar Terry Tip for the 8-year-old girl helping at therestaurant that morning.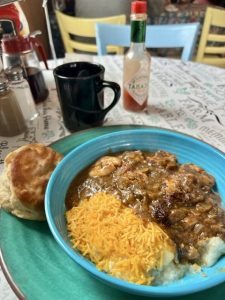 Walked Ocean Springs Government Street, surrounding neighborhood and beach
front park. I love pelicans. Visited Gulf Island Park marshes.
Craft Advisory Brewing flight included an excellent Stout and some other beers.
On to Hops & Growlers where they featured a slow pour Dunkel.
Quick stop at Fly Llama Brewing which had really fun tap handles.
November 23 – Nice short walk through the 12 Oak Nature Trail with plenty of live oaks and a
nice view of the bayou. Air was fresh. State Hwy 90 along the gulf. Little crab stuffed Trigger fish and Faubourg Brewing Lager at Shaggy's for lunch in Pass Christian and beach meditation session in Bay Saint Louis.
Forced to hit I-10 for a few miles because the Hwy 90 bridge was out, but this also took me right by the Faubourg Brewery. Solid
offering of German style beers and great venue. I will return. Hit the relatives house in Metairie just in time for raw and grilled oysters at Dragos.
November 24 – Thankful for family, friends, blue sky and sunshine. Trudy flew in to town for Thanksgiving. Full workout by the pool. Neighborhood walk. Splash, and possibly further meditation, in the heated pool. Perfect prep for full Thanksgiving meal, including crawfish stuffing.
November 25 – Good family time. Visited The National WWII Museum. How people got in those planes, boats or foxholes to face a barrage of bullets, bombs and explosives is beyond comprehension to me. Amazing sacrifice. War Sucks.
Headed to Cajun Country.